2004 Event Testimonials
John,
I knew that God had led me to Third Day on Saturday for a reason and I knew before I got there that God had something big for me. I actually became ill Friday night and I just prayed and asked God to not let anything keep me from this retreat! Once again God just proves that when He has a plan for us nothing can stop it!
John I sincerely hope that we can spend more time together. I like to surround myself with other Godly men. I believe that this battle is too great for us to fight as individuals and that God bring men like us together for His purpose and to build one another up in the spirit. If there is anything I can ever do to help you in your ministry, or otherwise, please call on me. I am passionate about helping other men! Thanks to you and your family for giving so much of yourselves to help others! It has been a privilege and an honor my friend. You and your family shall certainly have the affections of my daily prayers. May God Bless you and hold you in His heart.
C. M. Jackson
---
John Traver
Thanks so much for hosting a wonderful day with Steve Farrar, Darren Pearson and the 11:11 Band at the Third Day Ranch.

I came with Pastor Roy (Skip) Miller and Manuel Barreiro but ran into several other guys I know and Pastor Jorge Cardenas rode home with us. All the guys I spoke with both enjoyed the day and were challenged and encouraged in their walk with our Lord. Thanks for being obedient to the vision the Lord laid on your heart and allowing Him to use you.

"What could I do, King Agrippa? I couldn't just walk away from a vision like that! I became an obedient believer on the spot. I started preaching this life-change—this radical turn to God and everything it meant in everyday life—right there in Damascus, went on to Jerusalem and the surrounding countryside, and from there to the whole world. Acts 26:19 The Message: New Testament.

Lelan Callaway
Colossians 3:23-24
wwwthekatych urch.org
www.lelancallaway.com
---
John T.
Thank You for the wonderful time in the Lord on Saturday. Steve Farrar is a great speaker for Jesus. You were a blessing to me and many men. May the Lord Bless you and your family. If there is anything I can do to help please just call.
In Christ,
B. Rogers & Family

---
Dear John,
The retreat was a great experience for my dad and me. Beyond the fact that the event was very well organized and you where extremely gracious, I felt the spiritual substance of the retreat was solid and uplifting! Steve Farrar was on the mark and the praise and worship was spiritually energizing! A lot of men were blessed!
Thank you... and I can't wait for the next event!
God bless,
L. Meitzen
---
John -
I didn't get a chance to introduce myself on Saturday; however, I did want to express my appreciation for the effort and sacrifice that you and Dawn made for us. The journal you gave to each of us was tremendous. You planted much seed into more fields than you'll ever know.
R. Thomas
---
John,
Many thanks to you, your staff and family for a job well done. Everything from venue to the last minute logistical changes was all first class. I have a feeling there were quite a few men who left wanting a ranch of their own …lol
All kidding aside, Steve was great, what a message. This was my first time to hear him speak and what a treat. Darren and the band, what a blessing.
You are a man who seeks to be a blessing. Thank you for blessing me and all the rest of the men who attended.
God bless you, & your family,
M. Cornelsen
---
Dear Traver Family,
I had the honor of attend the men's encounter this weekend and I cannot begin to tell you how pumped up I was the rest of the weekend. All of you did a fantastic job of putting this historical event together. I just wanted to take the time to stop and say thank you for allowing me to be part of history.
This was definitely a life changing weekend. There was so much information to soak in and I am glad that the event was recorded so that we can share the powerful words that were ministered this weekend.
I really enjoyed the last part of the event were you brought your family in to share this exciting time in history, that was the part that think stuck with me the most. I also want to know that I am going to lifting you and your family in prayers. May the Lord continue to use you to share his word. Thanks again for leaving that trail for us to follow. The presence of the Lord was there this weekend and I know without a doubt in my heart he was saying "Well done good and faithful servant".
May God bless you and your family
R. Medellin
---
John,
This is Raymond-I played drums with the 11:11 band this past Sat. I just wanted to thank you for your investment into not only my life, but even my soon-to-be-born son's life. Your simple obedience to host that event will impact generations in the Turner family. Steve's message was, I believe, directly from the heart of God to the men of this generation.
Relevant and timely, my life was changed, and I pray all spiritual and physical blessings in Christ over you and your family today. May many generations from now be blessed by your obedience to the voice of God. Thanks!
"Only those who can bless the furnace ever understand the gold." Calvin Miller
R. Turner
---
Hello John!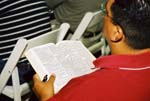 This is Marvin Jackson, Tony Fournier's friend. Brother I wanted to write you and tell you how much I appreciate what you have done for me and all the other men at the retreat. I am especially glad to have the privilege to go with Tony. I have been reaching out to him for the past few years to lead him back to Jesus. He is a great guy and I know that God has a big ministry planned for him. His soul was definitely stirred this weekend! There were so many things that were said at the retreat that I needed to hear, it was perfect! Steve Farrar confirmed so many things that God had already put on my own heart. I usually go to these retreats or to Promise Keepers and if I get one or two things from it I feel abundantly blessed, you can imagine then how I must feel walking away from the retreat with 9 or ten things! I could not have prayed for more blessings than I received there on Saturday! God is so good and Steve is right when he said God has left nothing to chance! This came at the perfect time John when I really needed my own spirit ministered to. I have served in the ministry in some form or fashion for the last nine years either in the music ministry or teaching bible school. Sometimes we get so caught up in trying to do so many ministries that we forget that we ourselves need to be ministered to. I really related to Steve when he talked about fatigue and stretching ourselves to thin. I have been guilty of this myself in the past. I was involved in three different ministries at one time and I became so overwhelmed and was gone from home so many nights a week that I was neglecting my primary ministry, my family. It's funny how Satan can even use our own ministries against us to distract us.
It was so wonderful that you introduced your family! Brother I love to see other men that love their families as much as I do mine. I am so thankful everyday that God has chosen to show me how much he loves me through them! It was so awesome to be in the delivery room with my wife when our two girls were born. I guess you can probably tell that they are everything to me! God has blessed me with me with a Christian wife that is so loving, caring and compassionate, not just to me but to everyone she meets. In my case the old saying behind every good man there is a good woman is so very true. I could not have grown to be the Godly man that I am without her. You know the funny thing about is she tries to make me think that I am the one that builds her up! What a woman!
Brother I hope that one day that my wife and daughters can meet you and your family. I can promise you that all of you will love them instantly!
John when you shook my hand the other day and said hello, I felt such peace and I could see the reflection of Jesus in your eyes. The work you are doing is so critical! The guys that I go to Promise Keepers with are always talking about not having enough retreats to go to during the year. Well Third Day has filled that gap for me. As you know our times are so critical. I have felt the battle Spiritual Warfare escalating for the past four years. It's not hard to see. Maybe I get a closer look from being in police work and we get to see all of the stuff that happens that doesn't get into the media. Satan is working so hard to destroy the family unit! It is all around us, I see good men just walking out on their wife and Kids for the same selfish reasons that Steve was talking about. That's why it is so important for families to pray together as a family and for men to step up and be PRAYER WARRIORS in their own homes. That is my message to men stand up and fight! Your family and your salvation are worth it! It tells us in Ephesians chapter 6 that our battles are not of the flesh and blood but of the spirit world (spiritual warfare). It is crucial that we teach men how to fight this battle! It's like doing police work, we had to be trained to fight the enemy on the streets to be able to survive! We need to train up our armies of family men to fight this battle because brother the enemy has brought the battle to our home front!
I'd like to share one other thing with you John. It's my daily prayer ritual, and because it is such an important part of my life. I encourage men I meet everywhere to do the same. When I wake in the morning, before my feet even hit the floor I am praying and thanking God for the gift of life today (sometimes when I become conscious I am already in prayer). I roll out of bed on to my knees and continue with my morning prayers of thanksgiving. After I am dressed for work I go to my wife's side of the bed and kneel down beside her. I gently take her in my arms and press my cheek against hers and begin to pray over her and at the same time she is praying God's blessings over me.
My prayer goes like this, "God thank you for blessing me with this woman as my wife. Protect her today Lord from Satan and his demons, keep her safe and healthy and protect her from all evil and harm, Father bless us both.